Fundraising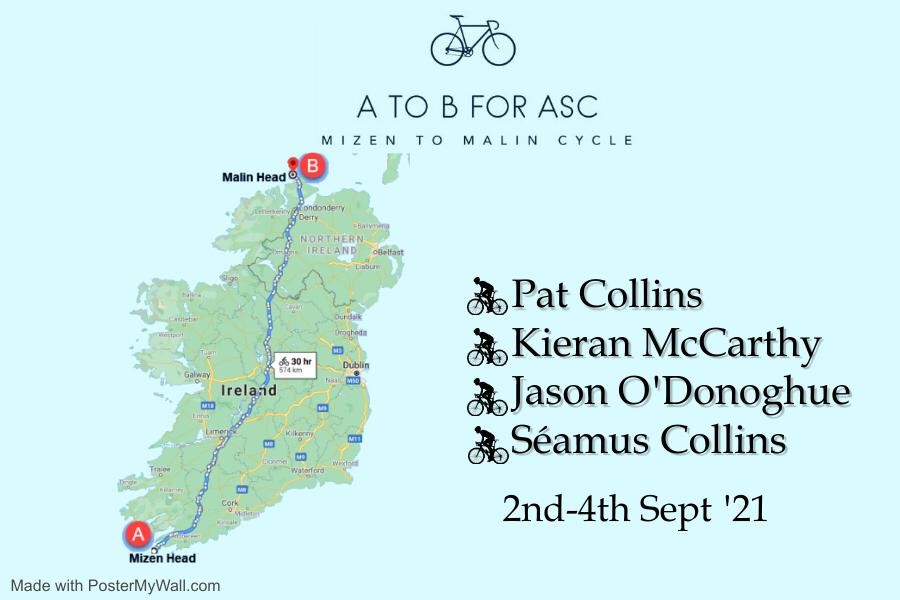 In 2018 we became increasingly aware of the need for school places for children on the Autism Spectrum within our own community and the surrounding areas. We decided to do everything we could to provide the opportunity for these children to attend school in their own locality and among their families and peers.
As a small rural school, this was a big undertaking but one we felt strongly and positively about. A Special Autism Class was sanctioned and we opened in September 2019.
We are now at the stage where funding has been granted by the Department of Education for the building of a new Autism Suite with a purpose built classroom, sensory room, safe space, staffroom and resource teaching room.
On behalf of the Board of Management, Fundraising Committee, staff, parents, students (present and future) and friends of Kilteely N.S., míle buíochas to everyone who contributed so generously to our Mizen to Malin fundraiser. We owe a huge debt of gratitude to our four courageous cyclists Patrick Collins, Kieran McCarthy, Seamus Collins and Jason O' Donoghue for the immense effort and sacrifice that went into their remarkable achievement. Thank you to your families and friends who have had significantly less time with you over the past number of months as you prepared. Our sincere appreciation to Truckbreak Ltd. for providing the van, OMC Technologies for covering diesel costs and to the drivers: Austin Shinnors and Pat Ryan. Thank you to our families, friends, work colleagues, businesses, sponsors, past pupils, parents and supporters of the school, near and far, who so generously contributed to this fundraiser and made it such a huge success. A special word of thanks to our Special Class Teacher, Marie Collins who not only oversaw the successful opening of this class but also coordinated this fundraiser. To the staff of Kilteely N.S. who as with everything, embraced this fundraiser with great enthusiasm and energy. The final total for the fundraiser stands at €26,343. Sincere thank you to Johnson and Johnson Vision Care who presented us with a cheque for €2738. We were extremely grateful to receive such generous contributions from local organisations including Kilteely/Dromkeen G.A.A., who have donated €1,000. A huge thank you to the Kinahan family, Joe and Paddy who also gave very generous donations of €500 each.
We were delighted to recently be contacted by Katie Kinahan, who on behalf of her father Bernard, has very generously offered to donate €2889 to purchase eight iPads for the school. We are so grateful for this opportunity to further expand our ICT facilities.
All at Kilteely National School are extremely grateful for the generosity that we have received.
Kilteely National School, Kilteely, Co. Limerick | Phone: 061384568